Happy Holidays… May your life be filled with music!
It's that time of year when the stores are decorated with holiday cheer and everyone is spending most of their free time shopping and decorating – all in some attempt to share a bit of joy in the world.
However, as the shoppers are out, malls and shops pipe in Christmas tunes, and smiles grow as we listen to the Christmas carols. Everywhere you go there is music, sounds of the season.
Take a moment (even a short one) and relish the sound of music. Understand the music you hear is a form of celebration and join in that celebration.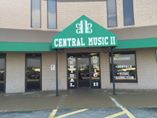 This holiday season, Central Music II extends our warmest wishes to you and your family. We would like to thank you for your faith in us by providing us with the opportunities to serve you.